Private Label
Maple Syrup for Retailers
Since the 1950s, Bascom Maple Farms has been providing private label maple products to many of the country's retailers, large and small. In fact, many of them have been with us for a long time. We think that's because we always deliver quality maple.
We know how to make the private label process as painless as possible for you — maybe it's because we're the largest U.S. supplier of maple, or maybe it's because we've been doing this for so long. There are a lot of moving parts with private label maple, and we know exactly how they fit together.
As consumer demand for simple ingredients grows, more consumers are discovering the unique character, flavor and sweetness of maple.
Which Maple Option is Right for Your Brand?
Grade A Dark Color, Robust Taste or Grade A Amber Rich? If you're not sure which product is right for you, we can help you find the right maple product that will add the right product to your maple set. Get in touch with us. We're happy to help.
Our Maple Syrup, Your Brand
Our maple syrup is available for private label in:
· Glass bottles: 8 oz. and 12 oz.
· Plastic jugs: 16 oz., 32 oz., 64 oz. and 128 oz.
We'll even private label 5-gallon containers for you.
Our maple syrup, your brand? That's a win-win.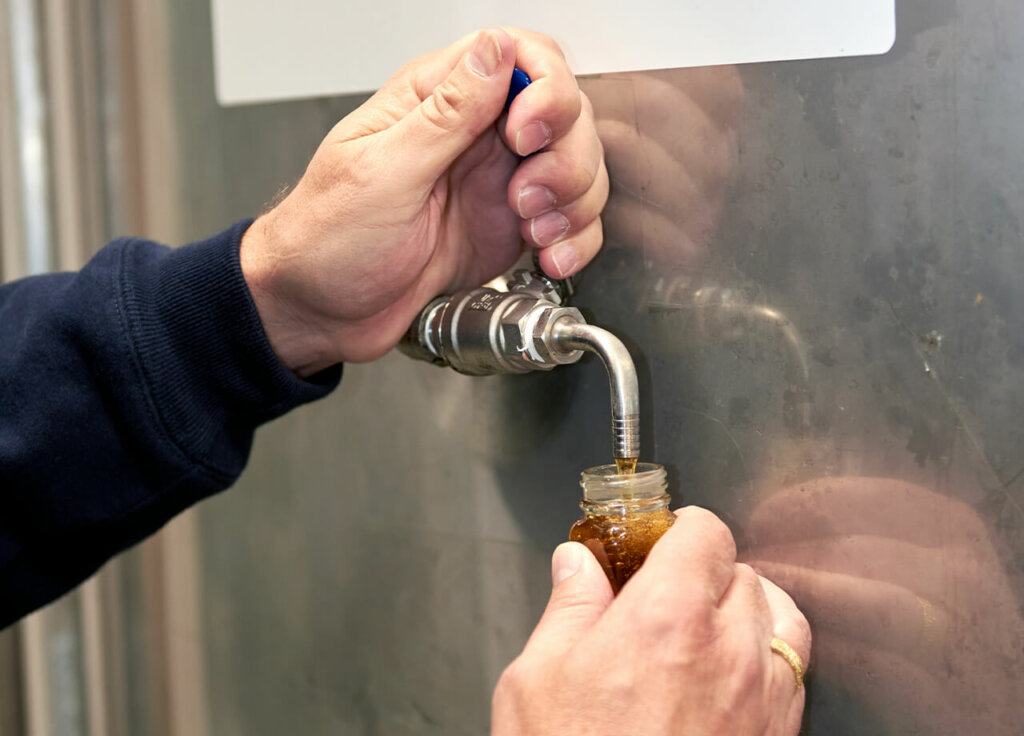 Consistently High-Quality Maple Products
We know that consistency in flavor is important.
As with all agricultural products, there are variations in quality from the forest. The vast quantity of maple syrup available to us allows us to pick and choose the right maple syrup for each grade. We process our maple syrup to give you a consistent product, order after order.
For high-quality maple syrup with a consistent flavor profile you can count on, choose Bascom Maple Farms as your maple source.
High Capacity Means Better Fulfillment
As the largest U.S. supplier of maple syrup, we can handle any order, no matter how big, and we'll always get it to you. We have maple syrup for every market — and the capacity to fill virtually any size order. With a storage capacity of more than 20 million pounds of maple syrup, you can rest assured we will always have what you need on hand.
Our capacity also means that no matter the size of your order, whether it's two pallets or multiple weekly truck loads, we can handle it.
Private Label Maple Syrup FAQs
---
How much does it cost to implement a private label maple syrup product line?

The cost of private label maple syrup products depends on several factors — whether you want organic or pure, what grade, annual volume and order volume.

Give us a call, and we'll happily discuss pricing once we know what you are looking for.
---
What is the minimum quantity order for private label maple syrup?

Our minimum private label order is two (2) pallets per SKU, per order.
---
Can I provide a custom label for my private label maple syrup?

Of course. We'll provide you the die line, shape of label and nutrition panel, and walk you through the process to ensure your label meets all guidelines. Depending on your brand's requirements, we will also make sure your label complies with the following regulatory certifiers: USDA Organic, non-GMO, Kof-K Kosher.
---
Shipping & Logistics for Private Label Maple Syrups
As the #1 American supplier of maple products worldwide, Bascom has the knowledge and experience to deliver private label maple syrup products whenever and wherever you need them.
We ship year-round anywhere in the U.S. and around the world. We've shipped our product to countries from Austria to New Zealand and pretty much everywhere in between.
Whether it's shipping by train cross country, motor freight to your door or air freight around the world, we always strive to do our best to get your shipment to you. If you prefer to make your own arrangements, we're good with that as well and will get your shipment ready for pick-up.