Available Maple Sugar Formats
Maple Sugar Just How You Want It
Bascom Maple Farms pure and organic maple sugar are available for shipping year-round in the granulations and packaging you need.
How is bulk maple sugar packaged?
Bascom Maple Farms maple sugar is available for packaging and shipping year-round in 5lb bags or 40lb boxes.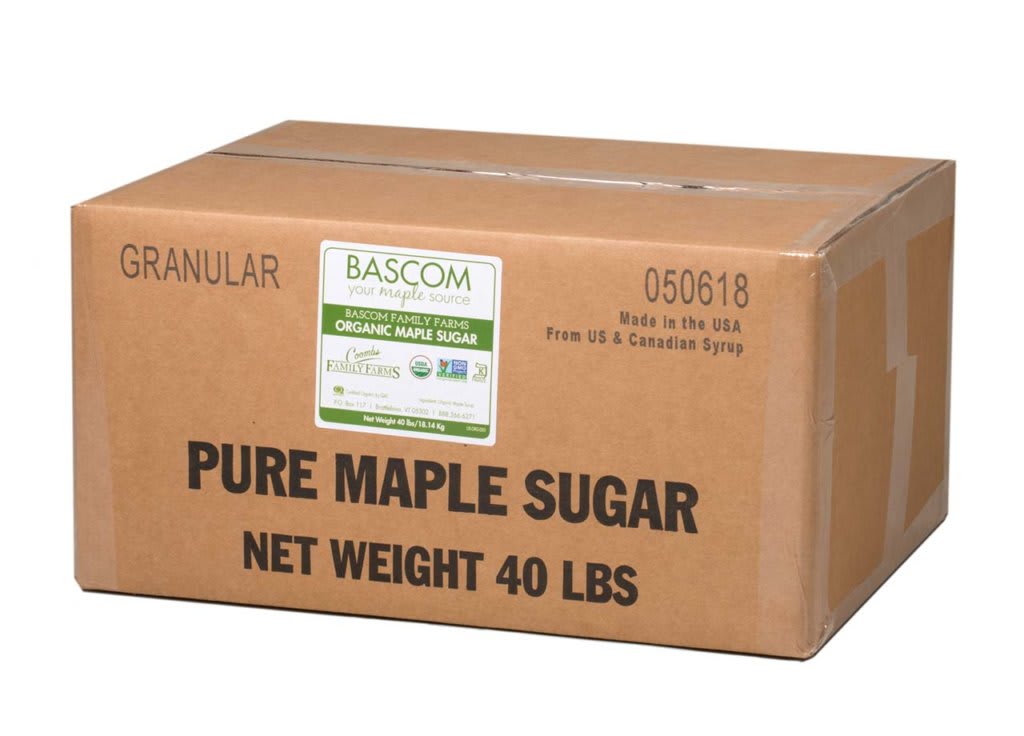 What Granulations are Available for Bulk Maple Sugar?
Bascom Maple Farms bulk maple sugar is a fine grain maple sugar. We've developed our maple sugar to work with most formulations and products.
Our maple sugar passes through a USS 40 screen (420 micron) (less than 10% sitting on #40 screen)
Density: Maple sugar powder 36-40 lbs per cubic foot
Not sure? Call us, we're always happy to talk maple sugar and help.
Consistency You Can Count On
Our proprietary manufacturing process guarantees that our maple sugar maintains its consistent quality batch after batch, year after year. By maintaining a consistent low moisture content,  sweetness and PH, our maple sugars have a longer shelf life and superior flavor when compared with many of our competitors' products.
If high-quality maple sugar with a flavor profile you can count on is important to you, choose Bascom Maple Farms as your maple source.